Private Dining In Warwick
Whether your event is social or professional, a dinner or a do come and find out what we can do you. The Woodshed offers a lovely venue for all sorts of events; from business breakfasts or full day conferences through to birthday lunches and dinner parties, we can serve food and drink to suit every occasion. Also equipped with free WIFI and laptop compatible presentation facilities, the possibilities are almost endless – you can even control the music. Seating up to 16 around one table, or join it together with the Yard for larger events for up to 50 guests, or meetings that need break out spaces.
We are happy to offer bespoke menus, whatever your needs are, there's no room hire if you are dining. Top-quality fresh food will be available throughout the day and we have a variety of menus to choose from, or we will work with you to create something just that little bit special. Our kitchen will be full of proper chefs, cooking fresh food from scratch every day using the best of British seasonal ingredients.
See our set menu here, and fill an enquiry form or find out more here.
Business Dining for Business Meetings
We believe that great meetings happen in great pubs. The Rose & Crown is the venue for all your business needs, just close the door and we will ensure  you will be undisturbed by the daily hustle and bustle of normal working life. Book it for free for meetings, conferences and workshops, spread your work out over the large table or gather everyone around it, pour the freshly brewed coffee and you're ready to go. With a versatile space and break out areas, we can offer a range of facilities to support your event, as well as fresh good quality food on tap.
We have a number of packages available and all details will be arranged prior to your arrival ensuring the day runs smoothly, the only decision you have to make on the day is whether to stay for a well earned beverage.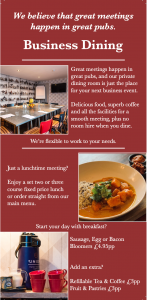 We also offer all bookers a £10 voucher for every £100 spent, under our 'Mind your Business' scheme.  Make a booking in our private dining room today and the booker receives a £10 food and drink voucher for every £100 you spend.