Lobster, Bubbles & Beer
Walking into the restaurant the atmosphere was a buzz. All around you could see the shells of the tasty crustaceans that had been devoured by the guests. If we weren't already hungry, just the scent of Lobster was enough to tantalise the taste buds and really stoke our appetites for the evening ahead.
To get the ball rolling we kicked off with a refreshing Beer from the bar, whilst taking our time to peruse the Lobster themed menu. With a great variety of dishes available, from Lobster scampi to soufflé and Surf 'n' Turf sharing board, we really were spoilt for choice. To top it off there was also the full A la carte menu available for those that were not interested in Lobster, but then again who couldn't be with all they had on offer?
With the beers lining our stomachs we were indeed ready for the main event. Placing an order for Lobster Scampi and Lobster Soufflé to start with Lobster Thermidor to follow. To help quench our thirst while we waited we ordered the third necessary element of the evening, the bubbles! A glass of Prosecco did the job just wonderfully.
Part way through our bubbles, the starters arrived and what a sight for sore eyes they were! Lobster scampi carefully placed on a bed of pea mayonnaise with straw fries for added crunch and Lobster Soufflé ready and waiting to melt in the mouth. They were both delicious and having cleared our plates we were even more excited for the next course! Our plates were cleared and we sat in anticipation of our half Lobster that we would soon be enjoying. We were definitely not disappointed upon its arrival, Lobster meat perfectly mixed with Thermidor sauce and topped with an oven-browned cheese crust. Celeriac Remoulade and new potatoes to accompany, we were in our element. Needless to say, our Lobster didn't last long and was soon polished off as we sat feeling very pleased with ourselves.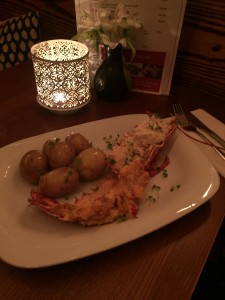 While we would have loved to sample the pudding delights the Rose & Crown has to offer we were full to the brim and paid and left with a smile on our faces. The Rose & Crown's Lobster, Beer and Bubbles was an undoubted success and the best thing is that it will be going ahead again this evening (Friday 14th), so if you've not already got your spot booked, get on the phone or click here to book your place, you won't want to miss out!