Welcome Emma…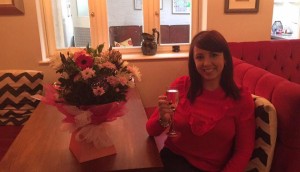 So, tell us what you love about running pubs?
Well who doesn't love the pub? I take pride in all of my work, but being able to see someone enjoying themselves because my team have done a great job is very rewarding.
What do you love about The Rose?
The Rose is nothing without its amazing regulars and my fantastic team 🙂
If you're having a dinner party at home, what do you like to cook?
Firstly there must always be prosecco! I like to have a very chilled atmosphere, starting with charcuterie to get people chatting around the table. I do a mean spag bol so it would have to be that for the main.
Anything you won't eat?
Onions – vile, hideous, awful things.
Any front of house annoyances?
Laziness, there is no excuse for it!
If you were any animal, what animal would you be. And why?
A giraffe, they are just beautiful creatures.
If you got your dream job tomorrow, what would you be doing?
It sounds really cliché, but I'm doing it. It's no secret that I've always wanted to run The Rose.
Any embarrassing work moment?
Well, once I spilt a glass of bubbles over a bride. She was  an absolute darling and was very relaxed about it all, I don't know if i would have reacted as well as she did!
Three words to describe yourself?
Positive, driven and enthusiastic
And your tipple of choice?
Prosecco, maybe too much at times.