Why 'dining in' is so out for large parties..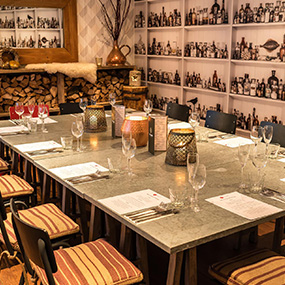 The best thing about being invited to a dinner party is that you don't do any work, right? Wrong! Apparently, as a guest, the polite thing to do is wash up, and it always ends up being the host. Imagine, filling the sink up with lukewarm water and planning how to wash the leaning tower of Pisa plates just as the host brings out the surprise fourth course of cheese. By the time you've finished washing (and angrily drying), most of the cheese has gone, my wheat-free crackers have all been 'accidentally' eaten, and the good wine is well and truly gone.
Conclusion, it's better to dine out and here are eight reasons why…
1) You get to eat what you want. A menu created by proper chefs is passed around, and you can pre-order before the day. I'm a foodie, and don't want to be eating the same thing twice in one week! If it's a steak that you choose- at least you know it's going to be cooked to perfection. Rare, medium-rare, just how you like!
2) There is no washing up. Simple. You don't even have to clear the plates away. Be waited on hand and foot and watch the plates walk away never to be seen again. Not a marigold in sight (for you).
3) Food intolerances are catered for,and remembered. Imagine you can't eat wheat and the host forgets? The bread is delivered to the table and your 'so called' friends pack it in their mouths, watching them green with envy as they wipe the garlic butter dribble away, laughing the initial hunger pains away. If advised before, our chefs will treat your intolerance like a VIP at the Ritz. Gluten-free crackers and bread a plenty
4) Book a Private Dining Room in a pub. It feels exclusive, but you still have all the benefits of being at home – choose your music, plus it's intimate, friendly and a relaxed setting. It feels indulgent and luxurious and you can also hide any terrible behaviour. The best private dining rooms also come at no extra cost!
5) There is no guest hierarchy. All guests are treated like bigwigs with no-one receiving extra special treatment (unless you have a food intolerance eh?). There's nothing worse than your friend's husband who gets more mash potato than you because he's an athlete. What about the Mum who didn't have time to eat lunch because their child needed to be pushed on a swing for 3 hours! And let Alan order a side portion of chips if he's hungry.
6) You get to drink bloody good wine. There's nothing worse than getting annoyed when you're poured something mass produced from the local corner shop, that a fellow guest bought last minute. Especially with a well-chosen bottle is sitting on the table. Another benefit of dining out (in a good gastropub) means the wine list has been well thought out and carefully selected.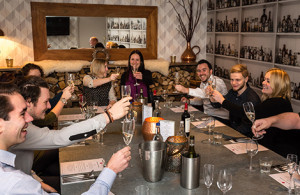 7) Everybody can relax – your house isn't being judged! Isn't it nice to not break into a sweat when your host brings out their finest crystal glassware, heavens above if you were to break a glass. You also dread your time hosting the dinner party as you spend 5 hours getting on top of the housework and then have to do it all again in the morning.
8) And finally. You can order a plate of cheese all to yourself. If someone asks you if you want to share, you can rightfully say no. After all you wouldn't share a main course right?